Welcome to Saxony
Welcome to Saxony
A lot of people's first association with Saxony is the region's dialect. However, the state has more to offer than just its vernacular. Saxons are always at the forefront of everything. Along with its slick inventive spirit, cultural heritage and traditional entrepreneurship, the state is characterised by its determination. Many athletes have found their way from Saxony to the world's top sporting events. Sport is as much a part of the state as Dresden's traditional Eierschecke cakes are. Whether it's football, athletics or winter sports, high performance sport is strongly encouraged – and one of the state's flagship characteristics.
That's how we do it in Saxony: we're more than just a dialect.
Welcome to the Erzgebirge
If you ask someone from the Erzgebirge what they associate with their home region, the words "Christmas" and "winter sports" will definitely come up. Shaped by years of mining, the inhabitants of the Erzgebirge are ambitious but sincere. And that's not the only reason people feel so at home in this mountainous heartland. Many find themselves drawn to the area by its beautiful landscape. In the silver mountains of the Erzgebirge, untouched forests are as much a draw in spring and autumn as the snowy meadows and fields are in winter. Both fans of skiing and snowboarding and lovers of culinary delights will get their fill here. The ornate folk art that can be seen decorating many windows around Christmas originates here, and makes visiting the Erzgebirge a very special experience.
And by the way – here in the Erzgebirge, we don't say "Hello." We say "Glück auf!"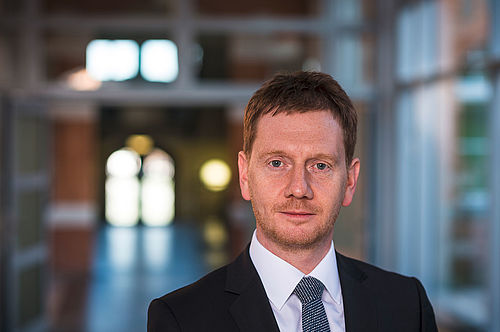 Welcome Message from Minister President of Saxony, Michael Kretschmer
Again and again, Saxon athletes draw international attention – and in doing so, they represent the clubs, cities, and state of Saxony. Our up-and-coming young athletes, too, have been showered with medals at world and European junior championships. These great results make me excited about the future and are a constant incentive for me to actively work for the promotion of elite sports. The state of Saxony funds and supports competitive sports at both the elite and new talent levels with its own resources. One of the reasons this is important is that athletes are role models, and sport is about more than discipline and strength. It's also about values that are important to society, such as fair cooperation and respect for others.
For that reason, I am particularly happy that the 2020 Nordic Junior World Ski Championships are taking place in Oberwiesenthal, and that we have the opportunity to welcome young sportspeople from all over the world as our guests. However, this major sporting event is also important for developing new talent of our own. It is already motivating athletes and trainers. The state of Saxony is taking concrete measures to support the planning of this world championship: The start and finish areas, including the cross-country skiing bridge, are being redesigned; the shooting range is being relocated; the spectators' area is being redone; and the judges' tower and the ski jumping complex are being refurbished and equipped with a tunnel for pedestrians and the emergency services. This not only benefits winter sports in Saxony and Oberwiesenthal as a winter sports destination, but also our winter sports training and performance centres.
There is a lot of work still to be done before the first big competition. I wish all involved with our very own sporting challenge good luck and a great deal of enjoyment. I am already looking forward to seeing everyone in Oberwiesenthal at the 2020 Nordic Junior World Ski Championships.
Michael Kretschmer
Minister President of the Free State of Saxony
Welcome Message from the District Administrator of the Erzgebirgskreis
A very warm welcome to the Erzgebirgskreis district and to the health resort of Oberwiesenthal! I am sure you are aware of the Erzgebirge as a region for tourism, as a place where mining traditions live on, and as an industrial business location in the countryside. However, on top of this, we are a successful sporting region that has produced many Olympic, world and European champions. Hosting the world's best up-and-coming ski sports athletes at the FIS Nordic Junior World Ski Championships here in the highest town in Germany is a great recognition of this. The prestige of this event will shape local elite and popular sports, as well as the development of tourism in the Erzgebirge. At the same time, it is an opportunity and challenge for the region to deliver an event of this kind, and preparations are in full swing! I offer my thanks to all the organisers, contributors and supporters helping to make a success of this unparalleled sporting event in our home region.
A very hearty "Glück auf!"
Frank Vogel
District Administrator of the Erzgebirgskreis District
Welcome Message from President of the WSC Erzgebirge Oberwiesenthal, Heike Smolinski
Dear athletes, trainers, volunteers and guests,
Thank you for your interest in the forthcoming event! As the hosting organisation, we would be delighted to welcome you to the tournament as our guests. Throughout the two weeks of the championships, we will enjoy many wonderful moments together, witness many athletic achievements, and cheer for many winners. We will have the opportunity to watch tomorrow's professional athletes and to experience first-hand the spirit of competition that only events like these truly bring to life. A lot of the participants have already started the many months of preparation that precede an event like this – and so have we.
Together with many helpers and supporters from my organisation, as well as from other clubs, associations, and institutions, we are using the time available to prepare for this event to the best of our ability. I would like to take this early opportunity to thank these contributors for their dedicated work – their commitment deserves as many accolades as that of the athletes. Furthermore, I would like to thank the organisers who dedicate themselves to this great event on a daily basis. I know what a big contribution all of you are making.
Last but not least, I want to thank the promoters and sponsors of competitive sports in Oberwiesenthal, some of whom are not only our partners for this event but have been supporting elite sports at the Fichtelberg mountain for years. We are looking forward to all the different events and the competition for them and hope to see you all there as well.
I wish the athletes good luck and all the best!
Heike Smolinski
President of WSC Erzgebirge Oberwiesenthal e.V.